Emergency Services
If you are currently experiencing an outage click here to learn what to do next.
Customer Services
See what services Sevier County Electric System has to offer.
EnergyRight Program
Make your home as energy efficient as possible.
Vegetation Management
Important information concerning trees and other vegetation
Before you Report an Outage
Check the Breakers / Fuses
When checking your breaker, be sure to push the switch all the way off and a little beyond the off position before returning it to the on position.
Check with your neighbors to see if their lights are also off. If their lights are working, then it may be a problem local to your home only.
Use the Power Action Line (PAL)
Call SCES at (865)453-2887 or Click Here to update your phone number.
If you have any questions contact us today
Project Round Up
Giving back to our community is a very important part of SCES's business philosophy, and we believe that our customers share this ideal. Project Round Up is one of the easiest ways we can all help members of our community, and it costs less than a dollar a month. Project Round Up helps customers in our community by providing bill payment assistance in times of hardship. SCES customers contribute to the program by volunteering to have their monthly electric bills rounded up to the next whole dollar. Individual contributions never amount to more than 99 cents each month. The total would not exceed $11.88 a year. Put this small change together and it makes a lot of difference to our community.
Vegetation Management
SCES is dedicated to providing safe and reliable electric service to our customers. The majority of power outages that occur are due to tree and other vegetation interference. SCES trims trees for two very important reasons:
To maintain safety of persons and property around high-voltage power lines;
To ensure that our customers have reliable electric service.
SCES trims trees at 10-foot minimum clearances from high-voltage distribution power lines on 3-year circuit rotations and 25-foot minimum clearances from transmission lines on 5-year trim rotations utilizing the Lateral Trim method. SCES does not trim around customer service drop wires. The Lateral Trim method directs new growth away from power lines, thereby reducing the amount of necessary future trimming. The Lateral Trim method also reduces the amount of biological damage to trimmed trees in contrast to such methods as Topping, Tipping and Rounding-over. The Lateral Trim method is recognized and approved by The National Arbor Day Foundation, The International Society of Arboriculture and other entities within the utility forestry industry. SCES removes fallen trees from power lines, including customer service drop wires. In order to restore power, SCES also removes any trees that have fallen due to storms or decay that are obstructing the utility right-of-way. However, wood and brush from fallen trees are not removed by SCES. Customers are advised to contact their local Department of Public Works, trash collector, or professional tree removal company for advice on disposal of storm-related debris.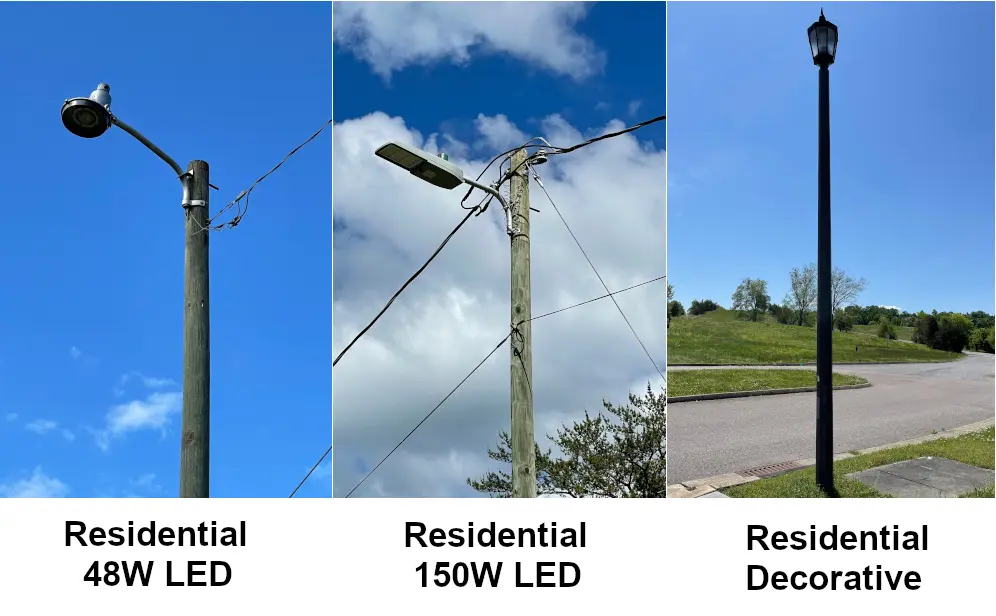 Outdoor Lighting
Outdoor lighting is available to SCES customers for a monthly charge. SCES will supply, install, and maintain the light fixture, all the equipment pertaining to the fixture, and furnish electrical energy to the light fixture. Outdoor light charges vary and all lights may not be available in all situations.
For as little as an additional $2 a month, you can support wind, solar and biogas renewable resources, and breathe a little easier knowing you're taking positive action to reduce your family's carbon footprint. Each $2 block you buy ensures that 200 kilowatt-hours of clean, renewable energy is added to TVA's electricity mix
The average home in the Tennessee Valley uses 1,200 kilowatt-hours of power each month. That means buying just two blocks of Green Switch at a cost of $4 a month will match about 16 percent of your home's electricity use with renewable energy.
Learn more here:
EnergyRight / Residential Services
EnergyRight is a residential energy efficiency program providing you with a simple way to make your existing home as energy-efficient as possible. EnergyRight includes an on-site energy evaluation by a certified Sevier County Electric System Energy Advisor. Qualifying participants may receive cash incentives and financing for electrification measures and specific energy efficiency home improvements.
Register online: www.energyright.com or by calling (865) 774-6265. When registering online, make sure to select "Request an EnergyRight Evaluation" at the end of the application.